Tuesday, May 31, 2005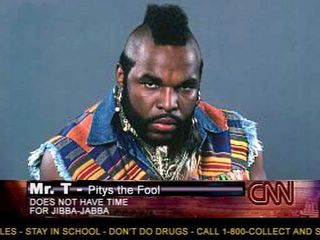 Pity me... & call 1-800-C O L L E C T
I've been MIA for a while and feel like I must apologize to the 1 or 2 folk that get lost in this wide WWW and find themselves on this site.
I've been meaning to jump into an argument that I've been having with Matt at Spursblog for quite some time regarding
the enigma that doth be Manu Ginobili
; In particular, where does he rank in comparison to
The Crybaby
, Jesus, or that's Mr. Shuttlesworth if you're nasty, (actually the best nickname i've found so far for Allen is Sugar Ray, which originated for me at least from the sonics vs. the world
blog guy
.)
Unfortunately, I've been extremely busy doing non-scratching my balls and typing about it stuff that I haven't been able to maintain a steady dose of retardedness on this blog. Hopefully when I get settled down in Cali, that'll change. Hopefully.
The other reason I haven't been able to set forth a firm opinion on the whole thing is the hugantic nature of the task itself. I've been dying to respond intelligently, but the thing is... I can't.
Hi: My name is Booth52, and up to about a year ago, I was a complete idiot(Hello booth), as opposed to being just a partial one now. I had no knowledge whatsoever of eFG's and TPS's (Lumbeeeerg!!!!! Just-a-moooo-ment!), +/-'s and PERs.
82 games
was nary a blimp on my radar, and
APBR
sounded like something I'd definitely want to avoid. But now that I have 82games.com, APBR.com, &
Basketball-reference.com
, and the vast amount of wealth of knowledgable NBA fans with keyboards all over the place, my life has changed, for the better, and so can yours!!(insert wink here, accompanied with pearly white smile, front tooth sparkling)
Matt's been deluging me and basketball blogging surfers everywhere with pretty damning evidence that Manu is providing to show that he is indeed a MF'ing A player (Manu, not Matt), and quite possibly the better of Mr. Shuttlesworth (....gasp!! air! i need air!) The gawdy PPS, +/-, PPG, the defense, the hair, the Divac-esque Oscar performances... the COMPLETE package peeps. My flippant replies to him have I believe both infuriated and discredited any semblance of intelligence I may have tricked him into believing I had.
But while the playoff PPS numbers that Ginobili has thrown out this year are in all likelihood valid, the Fact that Danny Schayes (WTF is
Danny Schayes
anyways?! Is he white? Can I score his jersey? Cop his CD?) is the all time leader and that Baron Davis and BJ Armstrong join the prestigious PPS list leaves me to not blindly believe the info until I can fully study and understand what the data implies. Same thing with the +/- stats. Manu is currently leading the playoff pack in this regard... but so are
Alfred
and E. Jones over their superhero counterparts D. Wade and Shaq. Just like there is an Antoine Walker & Reggie Evans for every PPG & RBG leaderboard, there are the Brendan Haywoods' of Roland Ratings, and on and on...
Well whoop-tee-f**king-doo... but what does it all mean Basil?
Here's the gist: I'm not fully comfortable yet with my understanding of these numbers to go fully agreeing or disagreeing with any claims based on them. If a player led the league in PPG, eFG%, PPS, +/- you'd feel comfortable with an assertion saying he's the best player in the league. But what of the numerous situations where you compare two players of similar stats, one better in one quality over another, and reverse? It's enough to drive a man crazy! NASH fo' MVP yo! No wayyy! U R sooo dumb! No, you are!! Jibba-Jabba-Jabba!!
I plan on being somewhat capable enough to throw out an informed opinion eventually. I've got a full intention of grading out the 2005 NBA Free Agent list with some form of intelligence to boldly predict the Sonics should trade for Tim Duncan should he become available, and eventually throwing out my own top 50 players or something of the sort. This whole writing down your opinions and standing by your word leaves you with the inevitable choice of a)spending large amounts of time getting your facts straight or b)eating crow (mmmmm.....). Hopefully my sloth-like nature prevents me from grabbing a fork on a regular basis. But for now, let me just end by saying: Ray Allen Roooooooolz!!!! Yeahhhh!!